External Rotary Drum Screen wastewater Solid Liquid separator
Model No.

CRD

Made in

Taiwan
External Rotary Drum Screen for wastewater
Spec
Type:Other,Water extraction Machinery
wastewater screen:external rotary drum screen
wastewater filter: wedge wire drum screen
Key Features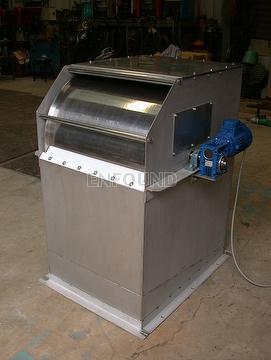 External Rotary drum screen is a rotating stainless-steel wedge wire cylinder which is fed externally. As the solids are captured on the face of the screen, they are removed by a discharge blade. The mass influent constantly washing the screen, resulting in continuous self cleaning screen surface.
The continuous and automatic self-cleaning effect makes it possible to use higher hydraulic and solids loading onto the screen in comparison with other types of screening equipment. Therefore, substantial capital and operational cost are saving. The 0.15-3.0mm of particle can be filtrated by rotary drum medium screen.
The
Wedge wire
is a welded stainless steel structure, mainly used for filtration, separation and retention media. It consists of surface part, usually V-shaped ( as drawing), that are resistance welded onto support part. The distance between the surface part is controlled very accurately, as it forms the slot through which the filtrate flows. In case of V-shaped surface part conical slots are created. The separation efficiency of Wedge wire screen is better than traditional Woven screen and perforated screen.
Advantages:
1.Wedge wire screen was designed for efficient recovery valuable wastewater.
2.It suits most of industries and domestic wastewater requirement.
3.The filtration performance with retention of particles from 0.3~1.5 mm
4.Compact construction suitable for mass treatment and small space.
5.Suitable for building and mall.
Applications:
(a)Vegetarian Industry
(b)Drink Industry
(c)Can Food Industry
(d)Paper &Pulp
(e)Power Plant
(f)Liquor Plant
(g)Hoggery & Slaughter
(h)Fish Pond & Hatchery
Payment Details
Payment Terms:TT
Minimum Order:1 Unit/Units
Video
External Rotary Drum screen
---